Singapore Chilli Mud Crab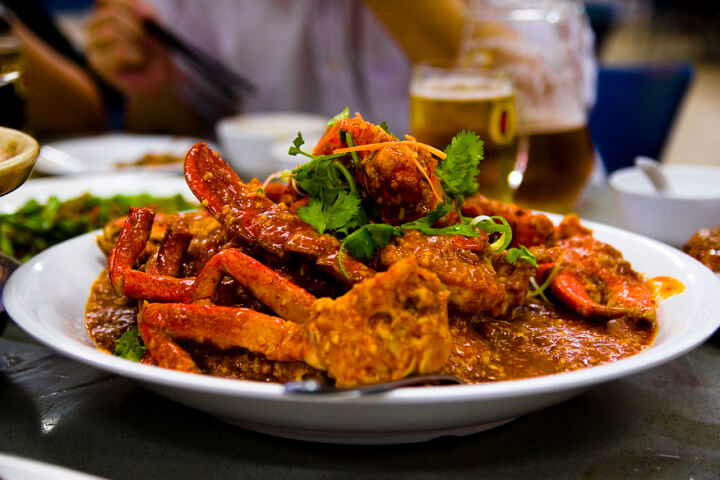 1 x 1kg crab (mud or otherwise)
2 x white onions, finely chopped
5 x small red chillies, finely chopped (add more to your liking)
3 teaspoons belacan (shrimp paste)
1 cup tomato puree
1 tablespoon tomato paste
¼ cup soy sauce
¼ cup sugar
2 tablespoons white vinegar
1 teaspoon cornstarch mixed with 1 cup warm water
1 egg, beaten
A pinch of salt
Handful of finely chopped coriander for garnish
Prepare the crab for cooking by removing the top of the shell (keep!) and crack the claws once to infuse the flavors during cooking. Ask your fish-monger to show you how.
Puree the onion and chilli until a thick paste forms and add it to the shrimp paste.
Stir fry the paste in a little oil, in a very hot wok. After a few minutes you will notice that the paste changes color, after all the water evaporates.
Add the puree, tomato and soy sauce, vinegar, sugar, tomato paste, and salt. Fry for 30 seconds or so, blending thoroughly.
Add the cornstarch/water mix and let boil.
Add the crab pieces (including the top shell) and gently fold through until the shell turns red. Cook for 10 minutes.
Add the beaten egg and stir through for one minute.The crab is now ready!
Take out the top shell piece and arrange the crab pieces and sauce on a long silver tray.
Place the top shell over the dish and sprinkle with the chopped coriander.
Accompany with steamed rice, sweet breads or even a crusty baguette. The latter is actually a particularly ingenious option.
Make sure every one of your guests has a paper bib, a small bowl with warm water and a slice of lemon (for hand cleaning) and their own personal nut cracker.
Recipe by
Tropicsgourmet
at http://tropicsgourmet.com/singapore-chilli-mud-crab/